METIS M311 (2-Color Pyrometer)
2-color pyrometers in the short-wave spectral range for non-contact temperature measurement on metals, ceramics, graphite and many other materials (let us advise you).
Very fast measurement value acquisition under 0.5 ms / response time: <1 ms
Available temperature ranges:
600 – 1400°C or 1112 – 2552°F
650 – 1500°C or 1202 – 2732°F
750 – 1800°C or 1382 – 3272°F
800 – 2100°C or 1472 – 3812°F
900 – 2500°C or 1652 – 4532°F
1000 – 3000°C or 1832 – 5432°F *
Spectral ranges: 0.75 – 0.93 / 0.93 – 1.1 µ m / *0.87 / 0.99 µm
Smallest spot size: 0.8 mm

Datasheet (pdf deutsch)


Data sheet (pdf english)
Special version for measuring pouring stream temperatures:
Automatic detection of the entire casting process
Output of a temperature of each cast as soon as it is finished
More details
Diverse equipment options thanks to the modular structure:
Optics: focusable, as fiber optics version, with motorized focus or fixed focus optics
Sighting methods: laser targeting light, through-lens view finder or color camera
Optional integrated equipment: Profibus, Profinet or PID controller
12-pin version with display, adjustment keys, 2 analog outputs, switchable RS3232/RS485 interface and 3 digital inputs / outputs. Optionally with integrated PID controller, Profibus or Profinet interface
17-pin version with 2 analog outputs, switchable RS3232/RS485 interface, 4 digital inputs, 2 digital outputs, one analog input and an integrated PID controller.
Can be integrated in heavy-duty measuring systems, GALAXY scanners or SC10 scan adapters.
Operating manual / software
Enter the model and serial number: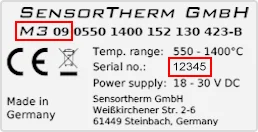 Request for Quotation (please specify):
Suitable mechanical accessories:
Suitable electrical accessories: