GALAXY Scanners SC7 / SC8
GALAXY line scanners move the spot size of a pyrometer continuously over objects and record temperatures at even angular intervals. With an adjustable measuring angle between 0.56 and 90°, 10 to 1600 measured values can be recorded and evaluated (let us advise you).
Can be used with 1-color and 2-color pyrometers of the METIS series
16 separately evaluable measurement regions
Digital inputs and outputs for external activation or switching signal output at temperature events
More details
Each of the up to 16 measurement regions can be evaluated separately. As soon as a region has been passed through, maximum, minimum or average temperatures are output at the analog outputs or even all are displayed together on the PC.
This enables extensive evaluations:
Temperature profiles provide information about the temperature distribution between edge and middle object areas
Maximum, average and minimum value of each scan of the material to be measured, provide a quick overview of compliance with the necessary object temperatures
Operating manual / software
Enter the model and serial number: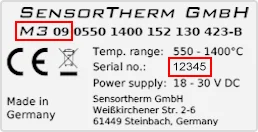 Request for Quotation (please specify):
Suitable mechanical accessories:
Suitable electrical accessories: