For communication with pyrometers, scanners, controllers, displays and calibration sources, we provide specially tailored software that extends the functionality of the devices and helps to solve the challenges of special measurement tasks.
All programs are continuously updated and can be permanently downloaded free of charge for customers.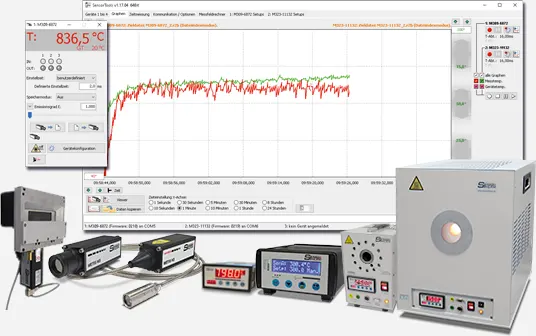 SensorTools
Included in the scope of delivery of all pyrometers, scanners, controllers, displays and calibration sources: very extensive adjustment, communication and analysis software.
Datasheet

SensorTools
Perform all measurement and device settings, assign inputs / outputs, activate targeting light, configure the camera or set the focus distance for motorized focus optics.
Display measuring temperatures numerically and graphically, from up to 4 devices simultaneously.
Record measurement curves, including measurement parameters and recording time.
Use special recording settings: start and stop recording externally via pyrometer's digital input or retrospectively or extended from buffered data records. Recording intervals from 50 µs for pyrometers with 921.6 kBd, e.g. for high-speed pyrometers.
Save pyrometer settings, print them, transfer them to other devices or export them to csv files.
Perform single-point pyrometer adjustment to adapt to a typical measurement temperature, e.g. for automatic compensation of optical losses when measuring through windows or lenses with an unknown transmittance.
METIS 3 pyrometers with an integrated PID controller simultaneously display the setpoint and actual value and thus enable quick detection whether the control parameters are still causing temperature fluctuations.
With the pyrometer-optimized PID program controllers REGULUS, complex control processes are programmed in several steps. The graphic display then shows all programmed setpoints on the time axis, so that the planned control process can be checked visually for each step.
Both control pyrometers and program controllers offer the possibility of automatic PI control parameter determination, so that thereafter only optimizations are necessary.
If calibration sources are connected to SensorTools, the setpoint can be entered, the actual value can be read and the measured temperature of a connected pyrometer can be read out.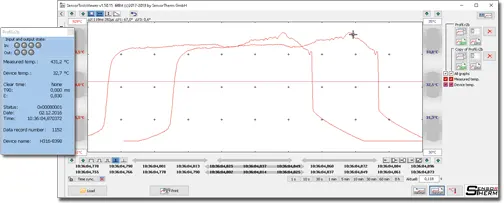 SensorTools Viewer
In the program package with SensorTools for displaying recorded measurement data.
Display, analyze and compare up to 4 measurement data files at the same time.
Duplicate measurement data, select, save, export.
Save current view of individual or all graphs.
Show measurement data details from the position of the mouse cursor.
Display device model, measurement parameters and date / time of recording.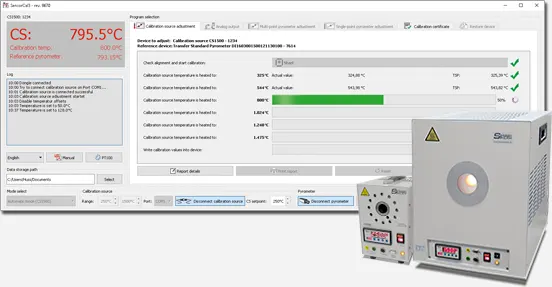 SensorCal3
in scope of delivery of all calibration sources: Software for verifying the accuracy and readjusting pyrometers and calibration sources.
Datasheet:
SensorCal3 + CS500-N + CS1500
You can find the software download here on the download page. You have to enter the model and serial number for this.
The CS1500 calibration source can be fully readjusted pyrometrically using a DIADEM Transfer Standard Pyrometer.
The CS500-N calibration source can be fully thermometrically readjusted using a USB RTD-PT100 thermocouple. Furthermore, externally determined measured values from any reference measuring devices can be used as adjustment reference values.
Additionally expandable to verify the accuracy and readjustment of pyrometers: The pyrometer series METIS M3 and old models MS / MI / MB / MP can be checked on the CS500-N and CS1500 automatically or by taking over the temperature values of any calibration source, thermocouple or reference pyrometer and readjusted if necessary.