The water cooling jacket is used to operate pyrometers outside their permissible ambient temperature. Water or air can be used as the cooling medium, the maximum cooling capacity is only being achieved with water.
KG10 for METIS pyrometers with 12-pin angled connector
KG17 for METIS pyrometers with 17-pin angled connector
KG13 for METIS-M3 pyrometer with camera module
More details
The two quick-release fasteners on the rear cover enable the pyrometer to be removed and installed quickly. The focusable optics can be adjusted in the cooling housing by unscrewing the protective lens tube from the cooling housing.
Operating manual / software
Enter the model and serial number: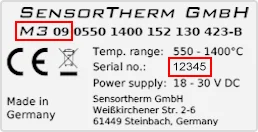 Suitable mechanical accessories: