METIS H3 highspeed pyrometers measure temperatures many times faster than standard devices and thus open up special applications such as:
Thermal process control with simultaneous laser power control

in the additive manufacturing:

Powder bed welding (SLM / SLS)
Laser cladding (LMD)
in laser soldering
in laser hardening
in laser welding of plastics
Create detailed temperature profiles of rapidly passing parts.
Our high-speed pyrometers are characterized by:
Compact housing, optionally with fiber optics or integrated PID controller for direct output of manipulated variables.
Digital inputs and outputs for external device control as well as output of switching signals in the event of temperature events.
Single-point adjustment function for quick adjustment to the process temperature.
Communication via interface commands possible.
METIS H3 highspeed pyrometers are available as:
1-color pyrometers with an exposure time of <20 µs for over 50,000 measurements / s (50 kHz measurement frequency).
2-color pyrometers with an exposure time of <40 µs for over 25,000 measurements / s (25 kHz measurement frequency).
METIS H322 (High-Speed 2-Color Pyrometer)

8 temp. ranges betw. 350 and 3000°C / 662 and 5432°F
Spectral range 1.45 – 1.8 µm; < 80 µs fast;
Smallest spot size 0.8 mm
Display, adjustm. buttons, switching inputs / outputs
Typical Application: Integration in Laser Systems or in Laser Processing Optics
In laser processes such as additive manufacturing, laser soldering, laser hardening or laser plastic welding, a pyrometer integrated into the laser optics can monitor the temperature of the melt on the component surface. This provides the laser robot with temperature data in real time so that always the required temperature is maintained at the component.
Example of additive manufacturing
In additive manufacturing, temperature monitoring and control with pyrometers is the most important prerequisite for uniform material coating.

With constant laser power, inconsistent surface temperatures result, which can cause uneven material coating.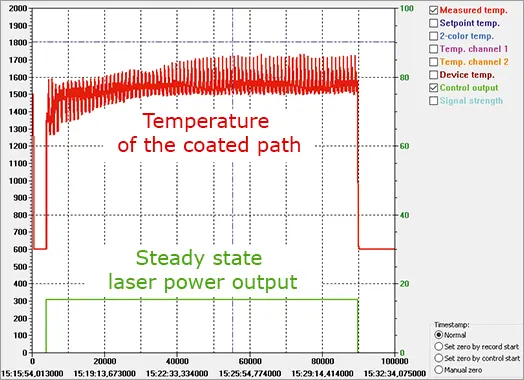 If the surface temperature is continuously monitored, the laser output power can also be continuously controlled and thus fulfills an important requirement for uniform material coatings.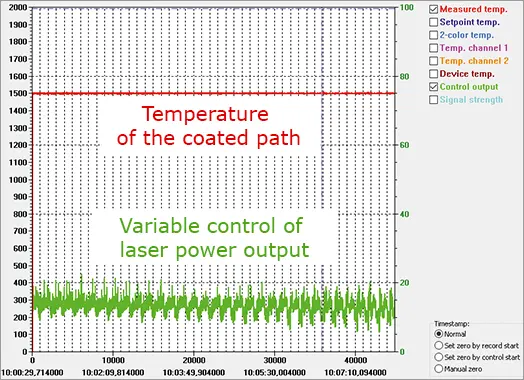 Typical Application: Laser Hardening
Temperature-controlled laser hardening produces perfect hardening results by suitable temperature control. Also with paused laser, different speeds or scale.
After removal of the oxide layer, no melting can be seen.
Temperature-controlled laser hardening allows consistent results without burn-off, even with different surface conditions such as threaded holes with thin or sharp edges.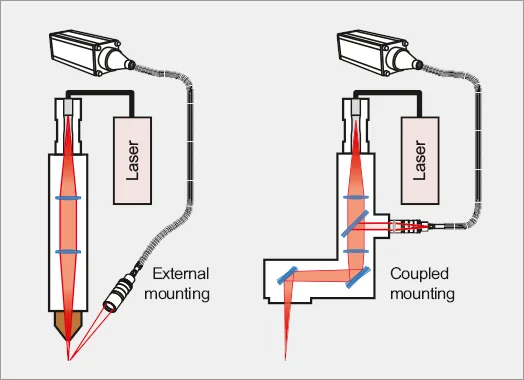 Measuring Methods / Pyrometer Coupling
The pyrometer can be mounted next to the processing laser mounted aligned to the heated measuring point or coupled into the laser head. The measurement is then always at the same location where the laser is positioned
Coupled systems offer the advantages:
Closed system without lens contamination.
On-axis-couplings are also possible in laser heads with mirror and rotary scanners.
The measurement of complex workpiece geometries with laser power adjustment in near real time offers a professional alternative to the conventional thermal process control with thermal imaging cameras, which only allow retrospective quality control but do not actively interfere with the laser control process.

Our pdf brochure "Highspeed Pyrometers for Laser Power Control" provides an overview of the system, devices and possibilities.