System components are additional components to the pyrometer which expedient extend the application range. If there are any further questions please do not hesitate to contact us.
---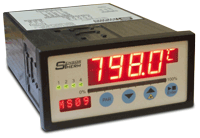 Digital Indicator IF0000
LED digital display for panel mounting.
For use with a digital Sensortherm pyrometer and display of:
Measuring temperature, pyrometer parameters, active limit switches
Easy to read 4 digit, 7 segment LED display
Automatic detection of Sensortherm pyrometers
Access and settings of all pyrometer parameters without PC
Additional parametrizing of the pyrometer utilizing SensorWin software
4 switch outputs
Digital communication interface output RS232 /485 (switchable)
Switchable from °C to °F
Temperature display and analysis via SensorTools software

Datasheet: IF0000
---
PID Program Controller Regulus RF and RD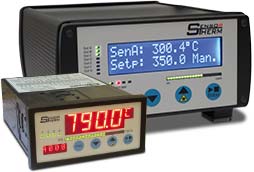 Regulus RF and RD are specially designed programmable PID controllers for use with a Sensortherm pyrometer and enable intelligent and very fast control processes. They are available in a compact panel-mounting version or a desktop housing for use with two pyrometers and additional relays contacts.
Regulus RF: PID program controller for panel mounting
Regulus RD: PID program controller as bench top model
Typical application is the process control of nearly all heating processes
Inductive soldering
Laser soldering
Soldering under inert gas
Specific preheating and reheating of welding processes
Functions
Adaptable to nearly every induction system (also for modernizing existing systems with manipulated variable input)
Direct output of a continuously adapted 0-10 V manipulated variable for controlling the high-frequency generator or the power component
Auto-Tune function for automatic determination of control parameters
Additional connection of up to 2 thermocouples possible
Timed heating ramps, holding times and cooling rates are selectively programmable. Intelligent APA (Automatic Process Adaptation) functions improve process control for soldering applications. The extensive logging functions of the SensorTools software are ideal for "online" monitoring and for subsequent analysis of the processes. The controller is able to take full advantage in the high requirements of the laser power control. Applications such as laser hardening, laser soldering or laser welding are no problem due to an extremely fast sampling time of only 100 μs.
Extremely fast sampling time of 100 µs
990 program steps within 26 programs
Automatic detection of Sensortherm pyrometers
Thermocouple input (optional)
Measurement range overlap control
AutoTune function (automatic P-I determination)
Multiple I/O's: 7 digital outputs and 6 digital inputs
Emissivity adjustable for every program step
Easy programming via software
Also for modernization of existing plants with control input
Additionally at desktop housing model RD
Two pyrometers can be connected (e.g. to enlarge the overall temperature range)
Up to two thermocouple inputs possible, type S or K
4 limit relays: 230 V, 6 A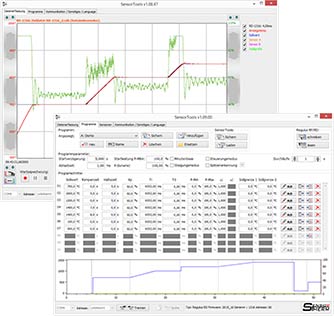 SensorTools for Regulus is the standard software to program the Regulus, then the Regulus completely autonomously executes the programmed control steps. Operation with PC connection additionally allows direct visual control of a running process.
Controller configuration
Creating and saving programs
Recording and storing of controlling and temperature processes for documentation purposes
Presentation and interpretation of stored events
AutoTune function for automatic detection of useful p and i values

Datasheet: Regulus RF / RD
---
Temperature Scanner GALAXY
GALAXY line scanners move the measuring field of a pyrometer continuously over objects and record their temperatures. Several measuring regions can be defined, which can be evaluated separately:
The maximum, average and minimum values of each scan of the material to be measured provide a quick overview of the compliance with the required object temperatures.
Temperature profiles can be recorded on the PC; they provide information about temperature distributions between the edge and central areas of objects.
A surface area display enables the quick visual recording of temperature differences on the material to be measured, similar to the evaluation with thermal imaging cameras.
The scanners can be operated with all pyrometers of the METIS series with RS485 interface. Especially with 2-color pyrometers, surface images with the 2-color measurement technology can be generated; the evaluation with thermal imaging cameras does not provide this possibility.
The scanner is equipped with a stepper motor for an extremely long service life and continuous 24-hour operation.
1600 individual steps at a 90 ° measuring angle also enable the recording of up to 1600 individual measured values, so that very detailed evaluations are possible.
The stepper motor can also be positioned on each of the 1600 individual steps in order to measure the temperature there.
Models SC71 / SC72 / SC73 / SC75 / SC81 / SC82 / SC83 / SC85
up to 16 measuring regions with separate temperature evaluation.
Up to 16 analog outputs for separate temperature outputs and stand-alone operation without a PC.
Scan angle adjustable between 0.56 and 90°.
Adjustable step speed from 1 to 10000 steps/s.
Simple setup and measurement data evaluation using the standard SensorTools software or using ASCII commands.
Datasheet: Galaxy SC71 / SC72 / SC73 / SC75 / SC81 / SC82 / SC83 / SC85
Models SC11 / SC12 / SC31 / SC32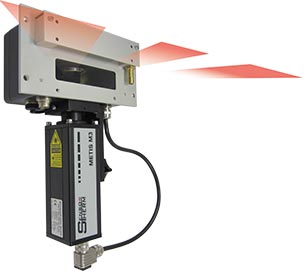 up to 4 measuring regions with separate temperature evaluation.
Up to 4 analog outputs for separate temperature outputs and stand-alone operation without a PC.
Scanning angle adjustable between 3.6 and 90° (SC11 / SC12) or 0.6 and 15° (SC31 / SC22).
Adjustable step speed from 1 to 4000 steps/s.
Setup and measurement data evaluation via PC or via ASCII commands. With models SC12 and SC32 also directly on the device so that the system can be set on site without a computer.
Built into a cooling housing, the GALAXY can also be used under rough conditions.

Datasheet: Galaxy SC11 / SC12 / SC31 / SC32
---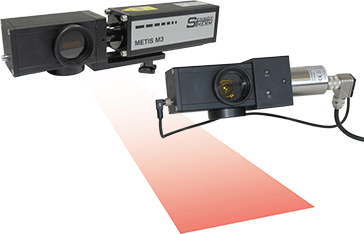 Scanning Mirror Adapter SC10
for Metis and Sirius Pyrometers
An SC10 scanner is primarily used to detect the maximum temperature of objects, where at fixed aligned pyrometers the measuring object would move out of focus or cold parts of surfaces (e.g. scale) does not display the required measurement result.
Field of Application
Peak value temperature measurement over a large area
Measurement of thin wires
Detecting scale-free points on scaled metal surfaces
Detection and measurement of hot spots
Temperature peak detection of slabs, billets or steel strips

Datasheet: SC10
---
Heavy-Duty Measuring System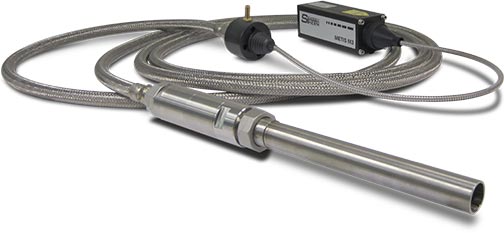 The Pyrometer Measuring System in Heavy Stainless Steel Design is designed for continuous temperature measurement in:
Hot strip rolling mills
Continuous casting plants
Casting machines / automatic casting units
Pipe welding machines
similarly harsh industrial conditions
Precise measurements under hardest conditions:
Use up to 250°C on the measuring head without additional cooling
With ratio or radiation pyrometers for 2-color or 1-color IR measurements
Extremely resistant stainless steel braided hose
Air flushing and air purge of the optics system
With high-speed models for measurements at high rolled strip speeds
The system is optimally adapted to the application conditions in the steel industry. The optics system is designed for up to 250°C, the purge air provides additional cooling and keeps the optics tube and thus the pyrometer field of vision free from contamination.
The electronics of the measuring system is mounted in up to 30 meters in a protected position.
Flexible application by remotely adjustable emissivity and innovative automatic process adaptation
Special pouring stream mode available as an option
Customer-specific recalibration possible
Highly accurate measurements by latest processor technology and fully digital signal processing
Fastest exposure times with smallest spot sizes
Using the peak picker allows to detect even smallest scale cracks which represent the "real" temperature to be measured
Application example hot strip rolling mill

In this application it is measured by the pyrometer from below of the strip, so that the measurement result is not affected by scale or water puddles on the strip. The evaluation unit is remotely installed in the control cabinet. The measuring tube is kept free from contaminants with flush air.
Datasheets:


Steel industry temperature monitoring with well protected flexible pyrometer
---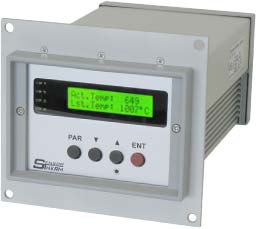 Measurement Data and Maximum Value Storage AZ76
The AZ76 measures the temperatures of passing measuring objects with a pyrometer and determines their maximum temperature. These values the AZ76 compares with a predetermined temperature range and output a corresponding control signal (via 4 switching outputs for the states overheated, too warm, good or too low) if temperatures are in accordance or deviation. Each measured value with valuation result, date and time is stored in the device (max. 32000 records). Data can be read out via interface commands or via the external software SchmiedeWin.
4 signal inputs can be used to transmit switching signals to the AZ76 of successfully changed switching gates to the correct position, and save in the log.
A common use of AZ67 is for the quality assurance and logging in forging that measure a forging blank and control a switch for the reject for non-compliance with the temperature required:
Too hot –> Reject
Too warm –> Reenters the circulation (parameter is optional available)
Good –> Production
Too low –> Can be re-heated and enters the circulation

Datasheet (German): AZ76
---