CAPELLA C322 (Portable 2-Color Pyrometer)
2-color pyrometers in the short-wave spectral range for non-contact temperature measurement on metals, ceramics, graphite and many other materials (let us advise you).
Very fast measurement value acquisition under 0.5 ms / response time: <1 ms
Available temperature ranges:
300 – 1000°C or 572 – 1832°F
350 – 1300°C or 662 – 2372°F
500 – 1800°C or 932 – 3272°F
Spectral range: 1.45 – 1.65 / 1.65 – 1.8 µm
Smallest spot size: 1.2 mm; 0.4 mm with close-up lens
Display, adjustment keys, USB
More details
CAPELLA C322 are portable 2-color pyrometers that measure in the short-wave spectral range and are therefore particularly suitable for measurements on bare metals. The ratio technique enables reliable measurement value acquisition even when taking measurements through dust, smoke and other disturbances in the field of vision of the measuring object. Precondition is that the radiation ratio always remains constant with a neutral weakening of the infrared radiation. The use of such devices has become an integral part of the stationary pyrometer world, with the CAPELLA series they are also available for portable measurements.
Optional display of 2-color or 1-color temperature
Through-lens view finder with temperature display or laser targeting light
Adjustable optics for measuring distances of up to 10 m
Optional: close focus optics for measurements with spot sizes from 0.4 mm
Measurement memory for up to 32000 measurement values including measurement parameters
USB connection for PC data transfer
Clear display with measurement values and additional information
Robust cast aluminum housing with rubber bumpers
Operating manual / software
Enter the model and serial number: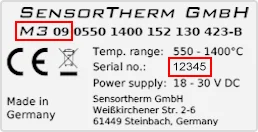 Request for Quotation (please specify):
Suitable mechanical accessories:
Close-up Lens

for CAPELLA handheld devices.
For spot sizes from 0.4 mm with a focus distance of 150 mm.

---