Our system solutions are additional components to the pyrometer which expedient extend the application range.
If there are any further questions please do not hesitate to contact us
---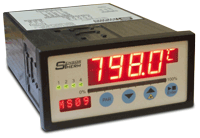 Digital Indicator IF0000
LED digital display for panel mounting.
For use with a digital Sensortherm pyrometer and display of:
Measuring temperature, pyrometer parameters, active limit switches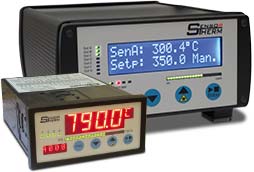 PID Program Controller Regulus RF and RD
Regulus RF and RD are specially designed programmable PID controllers for use with a Sensortherm pyrometer and enable intelligent and very fast control processes. They are available in a compact panel mounting version or a desktop housing for use with two pyrometers and additional relays contacts.
Regulus RF: PID program controller for panel mounting
Regulus RD: PID program controller as bench top model
Typical application is the process control of nearly all heating processes
Inductive soldering
Laser soldering
Soldering under inert gas
Specific preheating and reheating of welding processes
Functions:
Adaptable to nearly every induction system (also for modernizing existing systems with manipulated variable input)
Direct output of a continuously adapted 0-10 V manipulated variable for controlling the high-frequency generator or the power component
Auto-Tune function for automatic determination of control parameters
Additional connection of up to 2 thermocouples possible
Temperature Scanner Galaxy SC11 / SC12 / SC31 / SC32 for Metis Pyrometers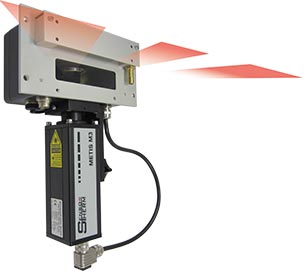 The Galaxy line scanner is used for continuous scanning of measurement objects and always detects the temperature on a line. The scanner can be combined with various Metis series pyrometers and is therefore suitable for the measurement of many different materials, depending on the choice of pyrometer.
The scanner is equipped with a stepper motor for extremely long service life and continuous 24/7 operation. Angular position and the scanning speed can be adjusted. In addition, up to 4 individual scanning areas can be defined for separate analysis. The step speed is adjustable between 1 and 4000 steps per second. The scan angle is split into 1600 single high-resolution steps: Models SC11 / SC12 between 3.6 and 90°, and Models SC31 / SC32 from 0.6 to 15°.
SC11 / SC31: Operation via software or ASCII commands
SC12 / SC32: Additional with four analog 0/4-20 mA outputs, digital display and pushbuttons to configure the system without computer.
Scanning Mirror Adapter SC10
for Metis and Sirius Pyrometers
An SC10 scanner is primarily used to detect the maximum temperature of objects, where at fixed aligned pyrometers the measuring object would move out of focus or cold parts of surfaces (e.g. scale) does not display the required measurement result.
Heavy-Duty Measuring System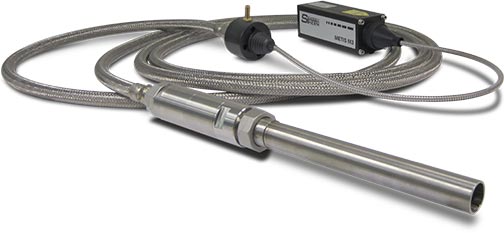 The
Pyrometer Measuring System in Heavy Stainless Steel Design
is designed for continuous temperature measurement in:
Hot strip rolling mills
Continuous casting plants
Casting machines / automatic casting units
Pipe welding machines
similarly harsh industrial conditions
Measurement Data and Maximum Value Storage AZ76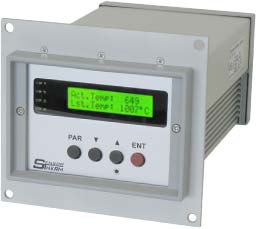 The AZ76 measures the temperatures of passing measuring objects with a pyrometer and determines their maximum temperature. These values the AZ76 compares with a predetermined temperature range and output a corresponding control signal (via 4 switching outputs for the states overheated, too warm, good or too low) if temperatures are in accordance or deviation. Each measured value with valuation result, date and time is stored in the device (max. 32000 records). Data can be read out via interface commands or via the external software
SchmiedeWin
.