The fast measuring Metis M3 and the high-speed models H3 are shortwave measuring pyrometers of the latest generation. They are available for stationary installation with integrated optics or as optical fiber version.
Technical Data 1-Color Pyrometers
High-speed
Technical Data 2-Color Pyrometers
High-speed
We always recommend a personal advance consultation before you decide on a device.
Features

Ease of Use
Bright 10-digit matrix display for temperature or parameter display
Fast measurement distance adjustment at motor focus optics (only M3 models)
Integrated dirty window monitoring and switch-off level (only at 2-color pyrometers: for pollution control of viewing windows and sight glasses)
LED's to indicate active inputs and outputs.
Suitable for Industrial Applications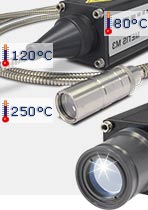 Immune to electromagnetic fields
Protected connection: against reverse polarity, wrong connection, over-voltage.
Up to 80 degrees ambient temperature at the M3 housing, fiber optic types up to 250°C at the optical head
with scratch-resistant, high temperature resistant sapphire shield on devices with integrated optics
Optics hermetically sealed at fixed optics and motorized focus optics
Universal Connections
2 analog outputs with high-resolution 16-bit.
3 inputs and outputs, configurable as digital input, analog input or digital output. For external switching operations, activation of stored pyrometer configurations, external analog emissivity adjustment, measuring distance setting (devices with motorized focus), external setpoint adjustment (devices with PID controller), or switching signal output on temperature events.
3 digital inputs and outputs for remote control and switching signal output at temperature events and as control inputs
1 analog input for external adjustment:

Emissivity
Measuring distance (devices with motorized focus)
Setpoint value (devices with PID controller)
Equipment options:

versions with self-tuning PID controller
versions with fieldbus systems
Versions with 12 or 17-pin connection plug for device settings via buttons, display directly on the device, 2 analog outputs, 3 configurable inputs / outputs or with PID controller and extra many inputs / outputs: 1 analog output, 4 digital inputs, 2 digital outputs.

Motorized focus optics are simply adjusted by pressing a button and show the set distance on the display or PC.
Manually focusable optics with an easy and fast one-hand adjustment of the continuous adjustable focus distance.
Fixed focus optics with best distance ratios reach very small spot sizes.
Pinpoint laser targeting light for target marking. At focusable optics, the spot size diameter can be optimally adapted to the measuring task.
Through lens view finder for sighting the measuring object up to above 3000°C. With target circle showing the measurement field and brightness adjustment for measuring of glowing objects.
Highly dynamic color camera module for alignment and monitoring on a monitor. The automatic picture brightness adjustment adapts extremely quickly to changing brightness of the measured object and is thus also ideal for process monitoring.
Innumerable Possibilities on a PC

Extensive Software SensorTools for measured value display, recording or device parameter settings
---