Metis H3
High-speed pyrometers of the Metis H3 series measure temperatures many times faster than standard devices. Thereby are all advantages of the digital data processing are available, such as high accuracy at high-speed output of the measurement results via analog and digital outputs.
2 device types are available:
H3 1-color pyrometers with an exposure time of < 20 µs for more than 50,000 measurements / s
H3 2-color pyrometers with an exposure time of < 40 µs for more than 25,000 measurements / s
These data are available, respectively with response times of 40 and 80 microseconds at the outputs, fast enough e.g. to perform a laser power control in near real-time and to respond to complex workpiece geometries.
Metis H3 High-Speed

Metis H3 with fiber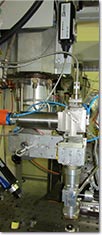 Metis H3 with integrated PID controller in stand-alone design:
The Optimal Solution for Controlling the Process Temperature in Laser Processes / Laser Applications.
Metis high-speed pyrometers with an integrated, extremely fast controller are infrared thermometers that measure the temperature directly at the laser spot. Via the integrated high-speed controller this value is used to control the laser power in order to keep the required temperature level.
Unique stand-alone concept in a compact design for temperature measurement and laser control. The pyrometers are operating and communicating autonomously via digital inputs and outputs as well as the manipulated output that gives the control loop for the laser power. The software SensorTools is only necessary for the set up procedure or if the measurement and control process should be monitored visually or recorded for evaluation purposes.
Fully autonomous operation or remote control commands via existing systems
Easy integration into existing systems
Easy integration of the optics into the laser system
Built-in calibration function for simple temperature adjustment on site without removing the optics
Datasheet:

H3 Highspeed 1-color pyrometers Metis H309 / H316 / H318

H3 Highspeed 2-color pyrometers Metis H311 / H322

Field of Application
1-color IR thermometers are mainly used for laser plastic welding applications (laser radiation welding, contour welding, simultaneous welding, quasi-simultaneous welding).
2-color IR thermometers in shortwave spectral response of 1.45 – 1.8 μm are ideally suited for measurements on metals without influence by the laser. Especially for laser power control during the laser hardening process and measurements in laser cladding processes.
The recording of the measured values is achieved by coupling the optics into the beam path of the laser or externally via focusable optics.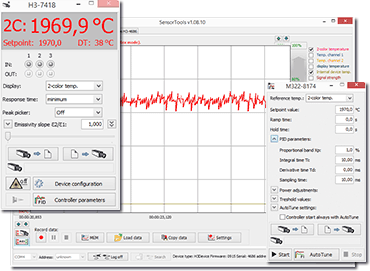 The PC software SensorTools allows adjustment of the parameters necessary to operate and control the process. These values are written directly into the pyrometer and keep stored there to ensure a fast and error-free integration into the measurement process.
Several parameter seups can be stored and addressed without software via an external control system.
A H3 pyrometer connected to the software via serial interface enables:
Visual control of the current measurement and control procedure
Recording and subsequent evaluation of the current measurement and control procedure
Benefits of the software:
Start and stop of control process via external control system or software
Output of status messages "ready" and "controlling active" via digital outputs and /or software
External temperature setpoint setting via analog 0-10 V input.
Selection of stored process parameters via external control system
On-site calibration function: for one click recalibration of the pyrometer with a calibration source on-site (e.g. to correct measurement errors when measuring through windows or if optics are coupled into the laser processing optics).
Video:
Hardening of contours without melting


---
If there are any further questions please do not hesitate to contact us