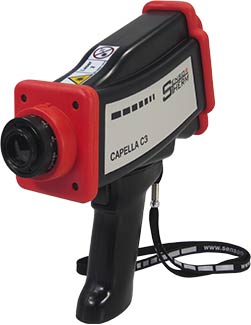 Versatile, Portable 1- and 2-color Infrared Thermometers
All devices of the new series of handheld pyrometers measure in the short-wave spectral range and are therefore ideally suited for e.g. measurements in metal processing in industrial processes. The availability of 1-color as well as 2-color devices enables perfect comparison measurements with stationary devices of the same type or just enables control measurements within quality controls. 2-color pyrometers can also be switched to 1-color measurement, making them particularly flexible in use.
Datasheet:

Capella C3 Series
The equipment is geared to the diverse requirements:

Handling:
Dual sighting device: View finder with display of the spot size and eye protection filter, comfortable view also with eye distance, e.g. through the visor of a safety helmet. Laser targeting light, green and bright for spot size marking even on hot glowing objects.
Adjustable optics for measuring object focusing from 380 mm up to 10 m distance enables the smallest possible spot sizes in the entire distance range. Even in the defocused area (in front of or behind the focus), the temperature is recorded with the same accuracy.
Clear display with switchable display details in large format or smaller with many measurement details.
USB connection for fast PC data transfer and battery charging.
Measuring comfort:
Fast temperature measurement in < 1 ms
Huge data storage for 32000 single readings or for up to 17.5 minutes with the fastest continuous storage.
Storage of 100 measuring locations with preset measuring parameters including storage mode and own name.
Software, included as always:
Graphical data analysis, variously graphically adaptable.
Save all or any excerpts in the software's own format or as csv.
Comparisons also of several data files.