Calibration and Adjustment Service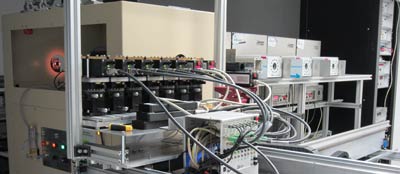 Before each delivery, all of our infrared measuring devices are checked, adjusted at the company's own calibration sources and delivered with a factory certificate, confirming the full functionality and traceability to national standards.
As an ISO 9001 certified company, all our inspection equipment is subject to inspection equipment monitoring and is traceable and monitored by DAkkS or PTB calibration chain.
In addition, you can obtain calibrations according to IEC 17025.
Calibration Sources for your Laboratory
If you want to calibrate by yourself, we also offer comprehensive calibration solutions.
Calibration sources up to 1500°C: CS1500
Calibration sources up to 500°C: CS500-N
Our Service
Calibration certificates according to IEC 17025.
Regular pyrometer maintenance / calibration.
Creation of factory certificates indicating the measurement deviation.
Device readjustment at measured value deviations; including factory certificate.
Creation of factory certificates at standard temperature measuring points or with self-defined or additional measuring points
Advice to measurement problems, if necessary on-site
Support at commissioning
Quick repairs